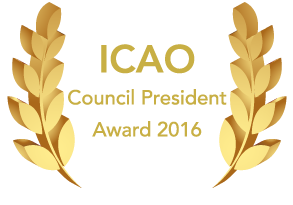 The Republic of San Marino is a member State of the International Civil Aviation Organization (ICAO) since 1988, a specialized agency of the United Nations, created in 1944 to promote the safe and orderly development of international civil aviation throughout the world. It sets standards and regulations necessary for aviation safety, security, efficiency and regularity, as well as for aviation environmental protection.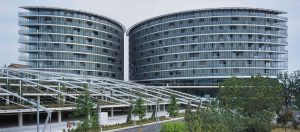 In addition the Republic of San Marino is also member state of the European Civil Aviation Conference (ECAC). The European Civil Aviation Conference seeks to harmonise civil aviation policies and practices amongst its Member States and, at the same time, promote understanding on policy matters between its Member States and other parts of the world. ECAC's mission is the promotion of the continued development of a safe, efficient and sustainable European air transport system.
During the opening ceremonies of ICAO 39th Assembly at ICAO HQ in Montreal on 27 September 2016, ICAO presented the Republic of San Marino with the Council President Certificate as recognition of the State's commitments, significant progress and contribution to a safer global network.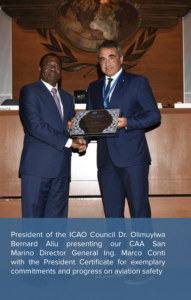 Our primary aviation legislation consists of Law No. 87 (the Civil Aviation Law) of 30 October 1992; Law No. 9 established the CAA as an autonomous entity responsible for all technical matters related to civil aviation, in particular the promulgation of regulations in its area of competence. Decree No. 73 contains most of the basic provisions related to civil aviation and consists of thirty-eight articles, grouped in seven titles, namely: General provisions, Aviation Register, Air Navigation, Production, Commercial services, Aircraft accidents, International Law and final provisions.
Our Mission:
Safety   |   Service Excellence   |   Compliance